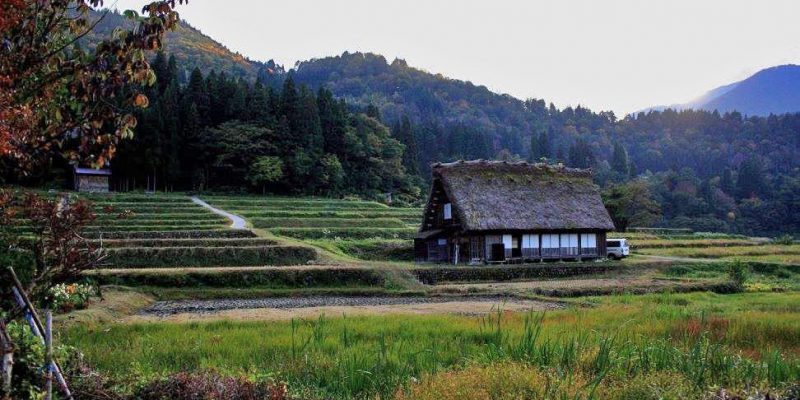 For those interested in day trips to UNESCO World Heritage Sites, you're in luck if you stay around Kanazawa:  Shirakawa-go is less than two hours away by car or bus!
The Shirakawa-go valley is known for its many unique, prism-shaped houses that are all between 100-400 years old. These curious houses are called gassho-zukuri and give visitors a peek into the provincial mountain life the Japanese have lived and try to sustain today.
Gassho-zukuri refers to the shape of the roofs of these unique thatched-roof houses. In Japanese, gassho is the act of putting your hands together for prayer, so a possible translation for the architectural style of these houses is "prayer making."
While these gassho-zukuri houses are a curious shape to many, they do actually serve a functional purpose:  winters in the mountains around Shirakawa-go are harsh and these triangularly shaped roofs keep structures from collapsing under the weight of several feet of dense, heavy snowfall. If you're around Kanazawa in winter and are up for an adventure, make your way to Shirakawa-go for a spectacular winter scene.
However, if you're not around in winter, fear not as Shirakawa-go is beautiful and interesting in any season! Spring brings with it cherry blossoms that add to the quaint, peaceful feeling of the valley; summer brings lush rice fields and bright wildflowers; and fall, an explosion of reds, oranges, and yellows makes for a refreshing trip in the crisp mountain air. Check out the town's website or Facebook page for seasonal updates!
During your stay in Kanazawa, you can easily make a day-trip out to Shirakawa-go and it's worth the jaunt in any season!
Tips:
Shirakawa-go can be reached by bus from Kanazawa station in less than 2 hours – for more details, check here.
Inclement weather can affect roads through the mountains, so check before heading out.
Getting a car and driving the White Road in the fall to Shirakawa-go is a truly beautiful and highly-recommended experience!