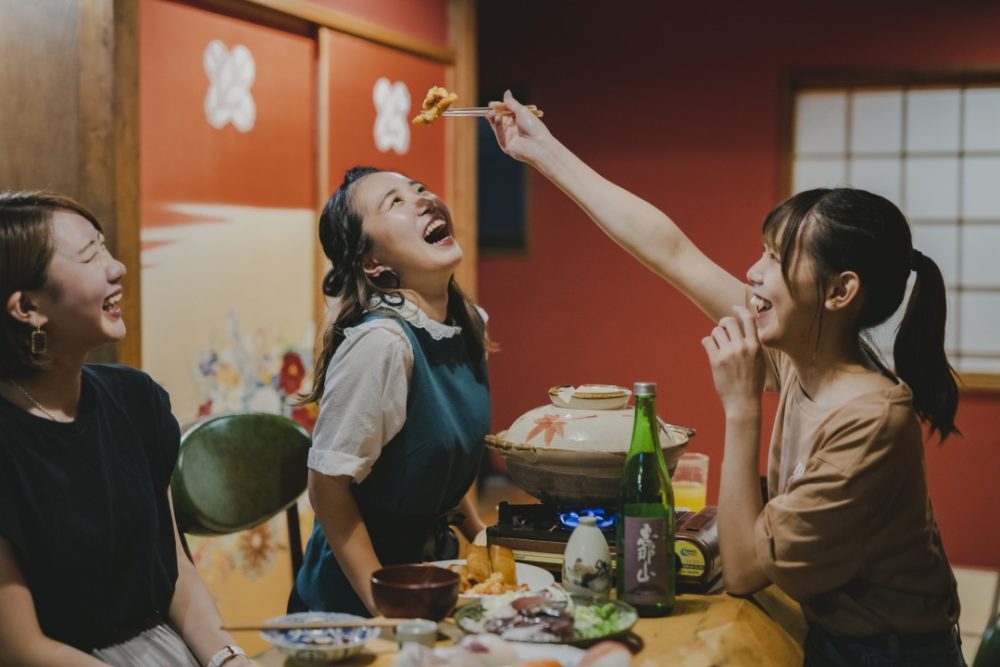 Yuzen TABI-NE
Capacity:
2 to 6 guests
It takes 15 minutes from Kanazawa station to the accommodation by bus.You ride the Kanazwa Loopbus (Right Loop) and get off at "Kobashi-machi" and walk 4 minutes.(You can also take a 10 minute taxi from Kanazawa station)
4 minutes on foot from convenience store
Equipped kitchen
shower room
(日本語) 有料コインパーキング徒歩5分
RESERVE
Traditional Kanazawa-style Japanese Home
This 70-year-old house was renovated in September 2017, combining Japanese and modern styles. Fabrics dyed by the nationally renowned Kaga Yuzen technique decorate the interior, making it a perfect place to experience the grace and beauty of the region. This house has 2 tatami rooms and 1 bedroom, and can accommodate a maximum of 6 people.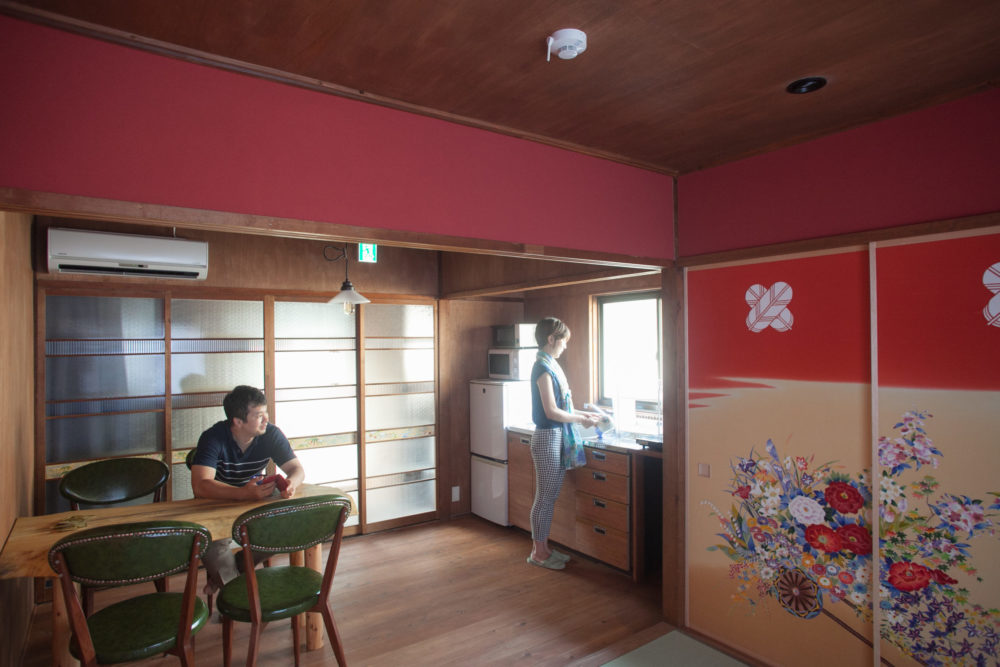 Feel Kanazawa's Renowned Traditional Art
On the 1st and 2nd floors there is a fusuma (paper-sliding-door), decorated with traditional kimono painting. This kimono is Kaga-yuzen dyed, one of the most expensive kimono dye techniques in Japan, made in Kanazawa. On the 1st floor the kimono fusuma is "Hanayome Noren". It is for good luck on one's honeymoon. The painting is a classical design, a vehicle adorned with flowers from all over the world. On the 2nd floor the kimono fusuma is "Yuzen Nagashi". From the Edo-period, Kaga-yuzen dyed fabric was washed in the Asano-river. This beautiful scene adorns the fusama, accompanied by paintings of many traditional patterns, like the four seasons in Kenroku-garden. It takes half a year to make such a Kaga Yuzen Fusuma, exhibiting world-renowned Japanese craftsmanship.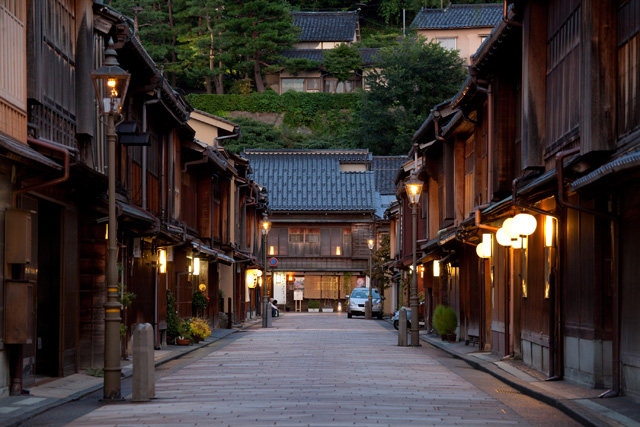 Nighttime in Higashi-Chaya District
In the daytime, you'll find many tourists buying souvenirs or eating one-of-a-kind gold-leafed ice cream. But, in the evening, there are few tourists -- the atmosphere changes into a refined, enticing calm, with restaurants and bars all about. You might even hear the flowing sounds of a Japanese koto harp, or, if you're lucky, encounter a Geisha in a local bar.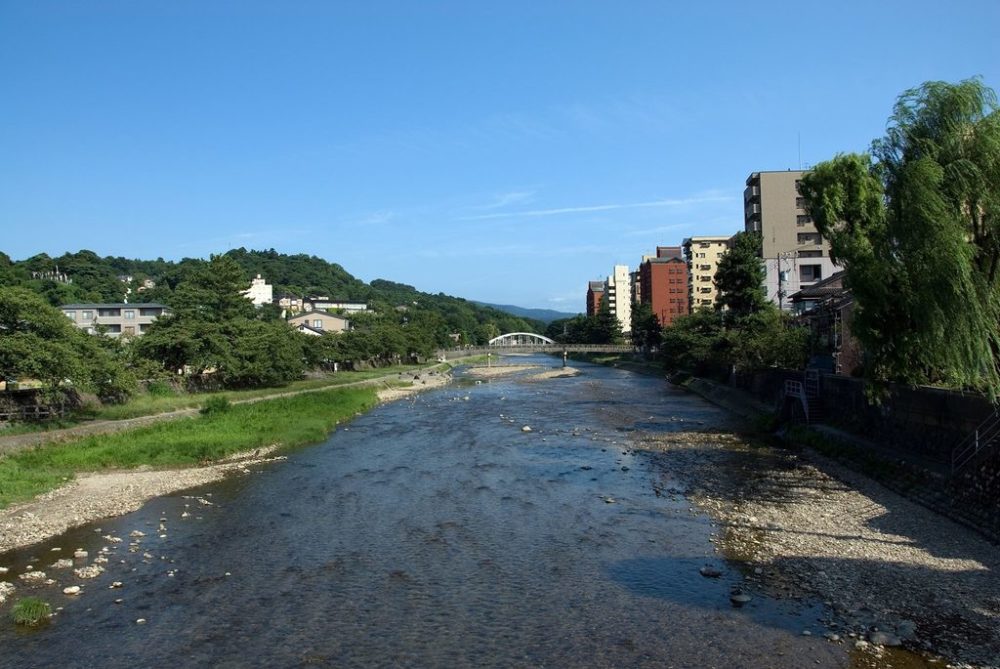 Relax for a bit along the riverbank
If you take an early-morning or evening walk to the Higashi-Chaya district via the Ume-no-hashi bridge, you can see people and birds along the banks of the Asa-no-gawa river, enjoying the beautiful scenic river and mountain views. Asa-no-gawa river is known as the "female river," full of elegance and emotion, creating a very nice atmosphere.
HOUSE LAYOUT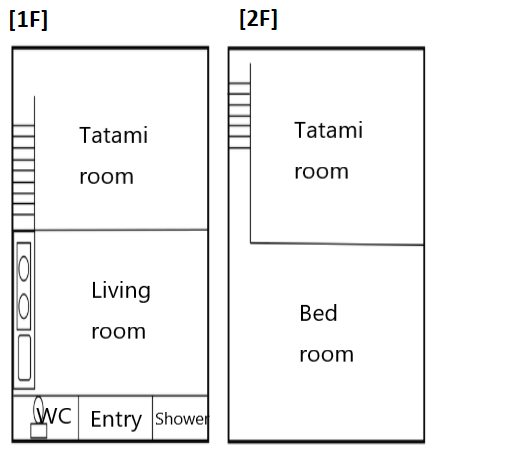 施設概要
OUTLINE
Location

3-25-10,Higashiyama Kanazawa-shi

Access

It takes 15 minutes from Kanazawa station to the accommodation by bus. You ride the Kanazwa Loopbus (Right Loop) and get off at "Kobashi-machi" and walk 4 minutes. (You can also take a 10 minute taxi from Kanazawa station)

TEL

076-205-8092

Capacity

2 to 6 guests

Amenities

Shampoo/Conditioner/Body wash/Bath towels/Hand towels/Toothbrush/Razor/local tea
Nightwear(100 yen for rent, available at the check-in desk)

Facilities

Wi-Fi
Kitchenware(pan/pot/long chopstick/ladle/knife/cutting board/spatula)
Induction heat stove
Kettle
Refrigerator
Microwave
Dishware
Hair dryer
Futon
AC/Heating

Other

・We ask our guests to be quiet during the night as this house is located in a residential area.
・Please refrain from bringing children under 9 years of age.
・Please don't touch the decorative fabric or Kimono.